2018 Josepth Huitson – Police Legacy Kokoda Adventure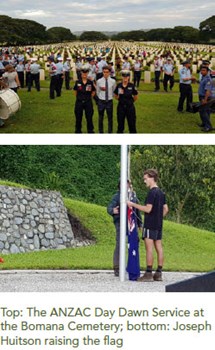 Overall it was an incredible experience with an amazing group of people, who I have kept in touch with since returning. The four pillars of mateship, endurance, sacrifice and courage resonated with each and every one of us as we progressed through the track and the bond between us was further strengthened. The memories of the Kokoda track will always remain with me.
To finish off the trip, our group attended the ANZAC Day Dawn Service at Bomana Cemetery in Port Moresby, where I was fortunate enough to lay a wreath on behalf of Northern Territory Police, alongside two serving Police Officers.
I will be forever grateful to Police Legacy for inviting me to participate and for all they do for both my family, and all of the other families in similar situations. Furthermore, I encourage all Australians to learn about our rich history in regards to the Kokoda trail and even consider doing the track itself.