2020 Kokoda Trek – Fundraising, heres how you can help!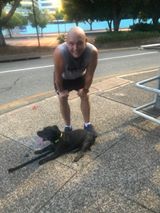 In April 2020, the 15th NSW Police Legacy Kokoda Trek will follow in the footsteps of the brave young Diggers who fought a heroic fight under indescribably difficult conditions during the Pacific assault of World War Two.  2020 will see participants on this Trek in NT Police Legacy Legatee Tony, with NT Police members Lynden, Sally and Rachel.
This is a chance to literally walk in the footsteps of history, spending eight days hiking 96kms of track through rugged mountains and lush jungle. During the trek, be supported at all times by the local Papua New Guinean guides. They're not called Legends for nothing.
The 2020 Trek will consist of Police and young-adult Police Legatees. This experience will have a profound impact on shaping who these young Legatees will become, and part of the opportunity in taking on this Trek is to fundraise to allow next year's young Police Legatees to take part.
The cost per Police Legatee is paid for by NT Police Legacy, which funds all travel, accommodation and food for the journey.  Each year we ask our trekkers to raise funds, between them, in order that Police Legatee/s can undertake the journey the next year. All money raised goes directly to NT Police Legacy, and funds the Kokoda Trek programs.
Here is how you can assist:
https://makingadifference.gofundraise.com.au/page/Tony-40983366