Kokoda 2019 – 'Doing this walk in memory of my Father' Taylor Matthews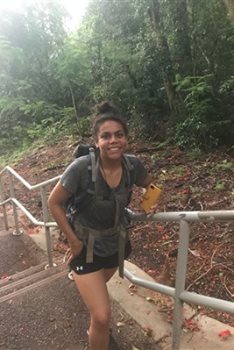 I am honoured to have been selected to participate in this years Kokoda Trek supported by the NT Police Legacy joining the NSW Police Legacy group. 
I am doing this walk in memory of my Father who served on the NT Police Force before tragically taking his own life when I was 12 years old. 
I have been in training which has been kindly supported by Pauline and Craig, along with the early mornings, steps and bush chooks, and did I mention the steps!  
We have been fundraising for this trip and to enable the NT Police Legacy to continue to doing the amazing work that they do. The money raised will ensure that the Kokoda Trek opportunity can continue and be offered to other Police Legatees like me. Without the NT Police Legacy I would never have had the opportunity to have a crack at this very challenging yet rewarding trek.
So please help me to help this amazing organisation and the work that they do.
Taylor Matthews
From one of my Mentor's – Pauline Setter
As most of you know, supporting Police Legatees to undertake the Kokoda Trek is something I have been involved in over the last few years. Every year I have encountered amazing young resilient people who have met this challenge with positive attitudes and respect for those diggers who have gone before. This year I have been training with another of these young persons and in two weeks she will be undertaking the trek alongside NSW, AFP, WA and SA Police Legatees and officers. She is raising money towards future NT Police Legatees also having this opportunity so I ask if you would like to support Taylor and future NT Police Legatees, please copy and paste the link below.
https://makingadifference.gofundraise.com.au/page/TaylorMatthews?fbclid=IwAR3ZFQBUOnjFhpfYYoKPGw45sqRx3YAfczzKy-RUXrPI88QRBVOqYgLJ_70