Northern Territory Police Club donates to NTPL!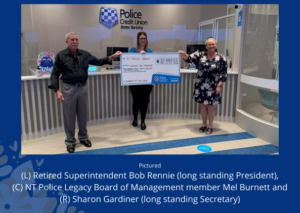 NT Police Legacy has received a significant donation from the Northern Territory Police Club. Funds of $72,997.55 has been received and NT Police Legacy is extremely grateful for this significant donation.
Historically – The Northern Territory Police Club was formed on 24 March 1972 with a stated intention of 'providing social, recreational and sporting facilities for members in semi-inclusive surroundings'. The initial President was J B Tiernan and the then Commission of the NT Police. W.B. McLaren was offered the position of Patron on this date – he accepted this position on 20 June 1973.
Much correspondence then took place between the committee, the Commissioner, the Government and the Administration relating to a location for the Police Club. Various locations were proposed with many counter proposals including converting a recreation room at the Training Facility/Barracks on Cavenagh Street, a grant of land on
which a club would be built and an existing building described as Annex no.1 The Esplanade (photos indicate this site is where the Palms City Resort is currently situated) – this building was subsequently discounted due to cyclone damage.
In December 1978 Commissioner McAuley approved the use of a building at the Police Training centre in Cavenagh Street for use by the Club.
In 1985 the Police Club moved to the Peter McAuley Centre in Berrimah where it remained until it closed in early 2018 due to a cool room failure. At the time it was believed the closure was temporary with plans being made to relocate to the Multi-Purpose Training Facility located near the pool at the PMC. This move failed to eventuate and the difficult decision was made to dissolve the club, finalise its accounts and donate the remaining funds to NT Police Legacy.