NT Long Riders and Friends National Police Memorial supporting NT Police Legacy 2019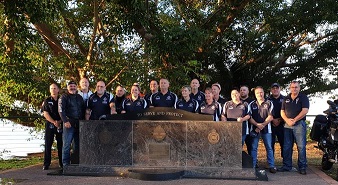 NT Police Legacy Inc is always grateful for the support we receive from the NT Police membership, Family&Friends and community allowing, us to support the NT Police Legacy Family!
This week we received a cheque for $1,770.19 from National Police Memorial, proceeds from 2019 10th – Wall to Wall Ride of Remembrance.
These funds are derived from Rider registrations, with each Rider nominating a 'Police Legacy' to receive their nominated funds. Thank you Northern Territory Long Riders participants for your pledge to NT Police Legacy Inc and Families.